Anita L. Ganesan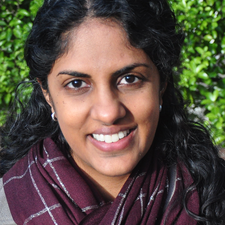 AS Atmospheric Sciences
The 2021 Arne Richter Award for Outstanding Early Career Scientists is awarded to Anita L. Ganesan for innovative and impactful work on greenhouse gas and ozone-depleting substance estimation through a combination of modelling and measurements.
Anita Ganesan has made significant advances in understanding the variability of methane concentrations in the atmosphere, which is a key factor in enabling us to meet global 'Net Zero' targets. She has pioneered novel and highly influential approaches that constrain emissions through a combination of inverse modelling with surface, airborne, and remote-sensing observations and advanced uncertainty quantification. Ganesan's interests and contributions extend well beyond methane and include understanding emissions of halocarbons and nitrous oxide.
Ganesan has also displayed remarkable leadership for her career stage, being a Steering Committee member of the international IG3IS initiative of the WMO, which supports greenhouse gas emissions efforts throughout the world. In recognition of her stature, the American Geophysical Union invited Ganesan to lead the community and provide recommendations for the field of atmospheric methane in their 'Challenges in the Earth and Space Sciences' collection series.