Anna Kłos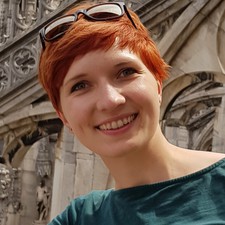 G Geodesy
The 2021 Division Outstanding Early Career Scientist Award is awarded to Anna Kłos for her outstanding contributions to time series analysis and the application of geodetic parameters for climate research.
The main research area of Anna Kłos is dedicated to time series analysis in geodesy, where she is developing new algorithms, improving the existing ones, and investigating their effectiveness. She has applied these techniques to a wide variety of geodetic applications, ranging from the investigation of the Earth's deformation to tropospheric delay estimates.
Kłos' research supports kinematic reference frames realizations by improving the understanding of stations' velocities and their uncertainties. She has also focused on geodetic deliverables as a tool for climate change studies, for example by investigating the significance of trends in GNSS-derived zenith wet delay time series as a potential input variable for climate models. Using geodesy for climate research has become an important focus of her research recently, a field in which she is already in a leading role internationally.