Roberto Pierdicca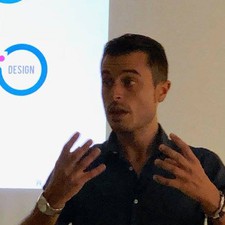 GI Geosciences Instrumentation and Data Systems
The 2021 Division Outstanding Early Career Scientist Award is awarded to Roberto Pierdicca for his contributions to the development of innovative methodologies that use augmented- and virtual-reality techniques to make cultural heritage digitally accessible and for environmental monitoring.
Roberto Pierdicca has a master's degree in construction engineering and architecture and a PhD in information engineering. Currently, he is a postdoctoral researcher in the department of civil, constructional, and environmental engineering at the Marche Polytechnic University in Ancona, Italy. In his research Pierdicca has developed and employed advanced approaches that use a wide range of modern geomatic technologies, including terrestrial and aerial photogrammetry, satellite remote sensing, terrestrial laser scanning, global positioning, and geographic information systems, in various application domains. The most interesting and innovative results have been obtained in the areas of digital cultural heritage (augmented- and virtual-reality projects to make archaeological sites and historical buildings digitally accessible) and environmental monitoring (geomatic data collection and processing for indoor and outdoor localization and mapping, to valorize the fruition and management of public open spaces).
Pierdicca has published extensively in national and international peer-reviewed journals, conference proceedings, and book series. His intellectual curiosity, creativity, and multidisciplinary approach to research, accompanied by a vision of future science and technology trends, make him a worthy recipient of the Geoscientific Instrumentation and Data Systems Division's Outstanding Early Career Scientist Award.