Ana Bastos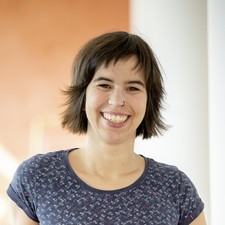 BG Biogeosciences
The 2022 Division Outstanding Early Career Scientist Award is awarded to Ana Bastos for exceptional scientific contributions to the terrestrial biogeosciences, improving understanding of climate variability and land use change on the carbon uptake of terrestrial ecosystems.
Ana Bastos holds a prestigious role as a scientific group leader at the Max Planck Institute for Biogeochemistry in Jena, Germany. Since 2020, Bastos has been building a lively and diverse research group of doctorants and research fellows investigating the interactions between climate, ecosystem function and disturbance patterns.
Since obtaining a PhD in Geophysical and Geoinformation Sciences from the University of Lisbon in 2015, Bastos has built up her skills in assimilating 'big-data' coming from a range of sources including global atmospheric monitoring networks, remote-sensing products and ecosystem GHG monitoring stations such as those forming the European ICOS infrastructure. Bastos uses these data alongside process-based modelling approaches to understand better the changes in the frequency and intensity of extreme climatic events and their impact on ecosystem health and services, especially the vulnerability of ecosystem C stocks to present and future global changes.
The importance of her work and research potential was recognised early when Ana Bastos received a "Young scientists in Geosciences" award from the Calouste Gulbenkian Foundation in 2011, followed by a Fulbright fellowship in 2012. Thereafter Bastos' research touched many fields of carbon cycle research during her positions as a researcher at the Laboratoire des Sciences du Climate et l'Environnement in Paris and as a lecturer at the Ludwig Maximillian University in Munich, including impact analysis of recent El Niño events on the terrestrial biosphere, the assessment of land use change emissions, and investigating the causes behind the plateau of the CO2 growth rate during the 1940s. More recently she has stepped up to co-ordinate the European synthesis task force to assess the impacts of the most recent 2018 drought across Europe working with the ICOS Research Infrastructure and moreover has expanded her research to the analysis of land use change emissions, and built a large collaboration network across Europe and internationally, co-chairing the second phase of the Regional Carbon Assessment and Processes of the Global Carbon Project, phase 2 (RECCAP2), an international initiative that involves more than a hundred researchers around the world.
Not only has Ana Bastos taken a leadership role in a number of collaborative projects with the international research community, she is effectively communicating her research findings in the literature (53 peer-reviewed publications to date) and is taking active steps to communicate the impacts of climate change more widely, participating in dialogues between researchers and policymakers, to address gaps in knowledge and societal actions, for the immediate and long-term future. In addition she is playing her part as a passionate biogeoscience role model, engaging and motivating the Portuguese scientists of tomorrow by discussing climate change, greenhouse gas monitoring, and global biogeochemical cycles with school pupils as part of the European Space Agency 'Climate Detectives' outreach activity. Finally, Bastos has been presenting her research findings at the EGU General Assembly since 2015 and since 2020 has been actively involved in the convening of successful BG sessions. Ana Bastos is an exceptional European biogeoscientist exemplifying the talents and significant achievements that are deserving of recognition with an EGU Arne Richter Award for Outstanding Early Career Scientists.