Diana C. S. Vieira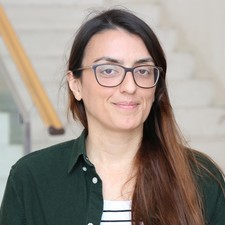 SSS Soil System Sciences
The 2022 Division Outstanding Early Career Scientist Award is awarded to Diana C. S. Vieira for contributions to the understanding of post-fire hydrological and erosive processes through field monitoring and the translation of that empirical knowledge into mathematical models.
Diana Vieira is an Environmental Engineer with a special focus on soil erosion risk. She dedicated most of her time monitoring burned areas and understanding the underlying key-processes in fire-affected soils and landscapes to better adapt models to burned conditions. Over the past years she applied several hydrological models to recently burned areas and improved them in order to take into account post-fire mitigation and rehabilitation measures. She successfully included the effect of soil water repellency and post-fire forest management actions in her soil erosion predictions, and leaded the project that created a post-fire soil erosion risk map for Portugal.
Diana Vieira is also dedicated to knowledge transference and strongly believes that art and technology should go hand in hand, and is a fervent advocate for equity and diversity. Her publication record includes several works at global scale, which aim to find land management solutions for post-fire on-site and off-site effects.