Hana Jurikova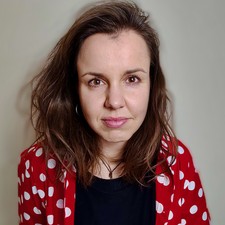 BG Biogeosciences
The 2023 Division Outstanding Early Career Scientist Award is awarded to Hana Jurikova for her exceptional scientific contribution to the biogeosciences, improving our understanding of the causes and consequences of historic perturbations in the marine carbon cycle.
Hana Jurikova is an Early Career Research Fellow based in the School of Earth & Environmental Sciences at the University of St Andrews in Scotland where she is rapidly emerging as a future leader in marine paleobiogeosciences.
Since obtaining a PhD from the GEOMAR Helmholtz Centre for Ocean Research in Kiel (2018), Hana Jurikova has developed skills in collecting, analysing and interpreting biogeochemical signals archived in marine sediments. In particular, Hana Jurikova has been at the forefront of developing the use of Boron isotopes to reconstruct the variability of oceanic pH and CO2 concentrations from ancient fossil samples. Hana Jurikova has built up a detailed understanding of the mechanisms underlying the variations in Boron isotope signals in modern marine organisms and applies this understanding to interpret ocean chemistry through time and specific critical events in Earth's history such as mass extinctions and oceanic anoxic events. Her growing expertise is now being recognised in high impact multi-disciplinary journals and is demonstrating for the first time the role of ocean acidification in the Permian-Triassic mass extinction and delivering a full biogeochemical scenario of this extinction period.
Although Hana Jurikova's results depend on the time-consuming collection and biogeochemical analysis of ocean sediment samples, she balances this with publishing in leading specialist and general audience journals including Nature Geosciences as first author. The impact of Hana Jurikova's research findings are not only resonating within academic circles, but also rippling through to the wider public, with many media outlets such as the New York Times and Der Spiegel providing coverage of her novel findings. Consequently, Hana Jurikova's outreach now extends to participating in the production of geoscience documentaries for the public, appearing regularly on television and radio to discuss biogeoscience research and she also prioritises time in her busy research program to communicate regularly her geoscience findings with the Czech and Slovak public audiences and scientific communities through a range of media outlets and seminars.
In addition to her novel academic achievements Hana Jurikova has also been a dedicated member of and volunteer for EGU. Since 2017, Hana Jurikova has organised several important Biogesociences Division scientific sessions, science communication and outreach sessions and short courses. Hana Jurikova also served as the Biogeosciences Division Early Career Representative and Blog Editor for two years during 2019-2021. Hana Jurikova also contributes to the community through her services in reviewing for journals and as an active member in several geochemistry societies.
Since obtaining her PhD in 2018 it is clear through Hana Jurikova's early and outstanding scientific achievements, her volunteering efforts on behalf of the biogeosciences community and her passion for science communication to academic and public audiences alike across Europe and beyond, that Hana Jurikova is a brilliant and energetic European biogeoscientist exemplifying the talents and achievements that are deserving of recognition by the EGU with the Biogeosciences Division Outstanding Early Career Scientists Award.