Johannes Miocic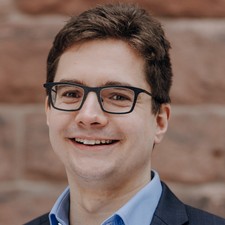 ERE Energy, Resources and the Environment
The 2023 Division Outstanding Early Career Scientist Award is awarded to Johannes Miocic for outstanding and innovative research and community service in the field of safe and sustainable subsurface storage.
Johannes Miocic has an excellent research record and is on the leading edge of studies on hydrogen and CO2 storage in porous media, driving new knowledge to support the low carbon energy transition. During his PhD and his first post-doc, he worked on subsurface CO2 storage, focusing on the impact of faults on storage security. Through studies of natural CO2 leakage analogues, he demonstrated that fault leakage can be predicted for CO2 and that even in a worst-case leakage scenario the majority of CO2 will securely be stored in the subsurface. The sustainable use of the subsurface continues to be his lead research theme, including the regional scale use of shallow geothermal energy for building heating, large-scale hydrogen storage in porous media and the predictability of reservoir alteration, compaction, and induced seismicity due to fluid production and injection. Johannes has also worked on the topic of historical building stones, to ensure the correct rock types are used for renovations of historical buildings.
Johannes delivers research impact by connecting with stakeholders beyond the academic community including public, policy and industry. Over the past few years, he has gained national and international recognition. He has contributed to the success of the EGU General Assembly for almost a decade (since 2014) and co-convened a session on CO2 storage in 2019. Since 2020, he has expertly led a successful and well-received session on subsurface storage. In 2022, he organized a session dinner where the extremely fruitful discussions could continue, leading to new collaborations and the development of new networks within the EGU community.
He is currently coordinating editor of a Geological Society of London Special Publication on subsurface storage, which resulted from the EGU session on subsurface storage he convened in 2020. In summary, Johannes has become a cornerstone for the organization of Energy Resources and Environment Division's scientific program and proves excellent research that does not stop with publishing in international journals.