Stefanie Kaboth-Bahr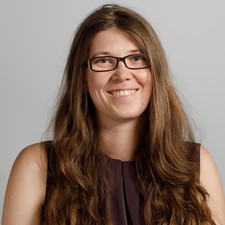 SSP Stratigraphy, Sedimentology and Palaeontology
The 2023 Division Outstanding Early Career Scientist Award is awarded to Stefanie Kaboth-Bahr for her outstanding work in marine sedimentology and terrestrial stratigraphy to better understand low- and high-latitude climate processes as well as land-ocean coupling in the climate system.
Stefanie Kaboth-Bahr completed her PhD at Utrecht University in the Netherlands in 2016, with a thesis on the palaeoceanographic and palaeoclimatic evolution of the Gulf of Cádiz. After that she embarked on an international career adventure that brought her to renowned research institutions in Canada, Taiwan and Germany. Currently, she is affiliated as a postdoctoral researcher with the University of Potsdam.
In her research, she strives to better understand the evolution of Earth system dynamics, with special emphasis on the interplay of low- and high-latitude climate processes as well as land-ocean coupling in the climate system. Her ongoing research projects target IODP and ICDP (International Ocean and Continental Drilling Programs) drilling sites and encompass monsoon and North Atlantic deep-water variability during the Plio-Pleistocene, Arctic palaeoceanography, as well as the interplay of climate change and human evolution in Africa. She combines quantitative methods from the fields of sedimentology, stratigraphy, micropalaeontology and geochemistry to tackle pressing questions in palaeoceanography and palaeoclimatology. In addition, she applies time series and multivariate analysis to sedimentary archives to address open questions in astrochronology, stratigraphy and climate evolution.
Since the start of her PhD, Stefanie Kaboth-Bahr has published 35 papers in leading international journals. She is an outstanding Early Career Scientist clearly on track to become a leading expert in linking oceanic and terrestrial sedimentary archives to answer pressing questions in geosciences. Her research is evidently at the core of the EGU's Stratigraphy, Sedimentology and Palaeontology Division, and this makes her a very worthy recipient of the Division's Outstanding Early Career Scientist Award for 2023.