Athena Coustenis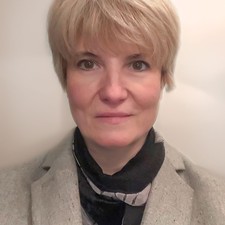 The 2023 Jean Dominique Cassini Medal & Honorary Membership is awarded to Athena Coustenis for her major discoveries in the field of planetary atmospheres and surfaces and outstanding contribution to international space missions.
Athena Coustenis, Director of Research Exceptional Class at the Laboratoire d'études spatiales et d'instrumentation en astrophysique (LESIA), Observatoire de Meudon, is known and respected worldwide for her significant contributions to the study of planetary atmospheres and surfaces in the outer Solar System and beyond. She has made significant achievements through her research using ground-based observations and her involvement in international space missions. She has uncovered new knowledge of outer Solar System objects (Saturn, Jupiter, and their icy moons) with a particular emphasis on Saturn's moon Titan. She contributed in a distinctive way through her role in space missions as Co-investigator of three instruments on the Cassini/Huygens mission and currently as Co-investigator on the JANUS camera on the JUICE mission. She is also involved in future space missions that will explore exoplanets, e.g. as Co-investigator of the upcoming ARIEL mission. She earned respect as a scientist authoring and co-authoring more than 180 refereed publications, as a book author, and as Chair of the Panel for Planetary Protection (PPP) of the Committee on Space Research (COSPAR). She excelled in research management and services to the community. She held numerous positions on committees in Europe and the United States. Among them are the Chair of the Human Exploration and Science Advisory Committee (HESAC) of the European Space Agency, the Chair of the European Science Foundation Space Sciences Committee (ESF/ESSC), the President of the EGU Division for Planetary Sciences and the Vice-Chair of the Europlanet Society. In summary, Athena Coustenis is a role model in her research field and a great ambassador for the EGU.
Medal lecture video (Vimeo) of the Jean Dominique Cassini Medal given at the EGU General Assembly 2023.