Sam Illingworth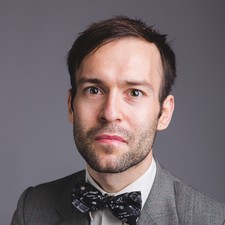 The 2023 Katia and Maurice Krafft Award is awarded to Sam Illingworth for visionary work in developing and implementing methods to communicate geoscience in an innovative and inclusive way, and with a diverse audience.
Sam Illingworth is a globally recognised leader in the field of geoscience communication for outreach, public engagement, and knowledge exchange. Over the last four years he has directly engaged with over 20,000 members of the general public, developing, and delivering a variety of different initiatives ranging from science fairs and classroom visits to poetry performances, and science and art exhibitions. Sam has extensively utilised blogs and podcasts, has inspired other researchers through book publications (more than 250 000 downloads), workshops, and conference sessions and was instrumental in getting Geoscience Communication – a Scientific Journal devoted to cover all aspects of outreach, public engagement, widening participation, and knowledge exchange – up and running. Using poetry and games he engendered meaningful dialogue between scientists and society, giving voice to marginalised communities in the development and democratisation of science.
Medal lecture video (Vimeo) of the Katia and Maurice Krafft Award given at the EGU General Assembly 2023.