Francesca Funiciello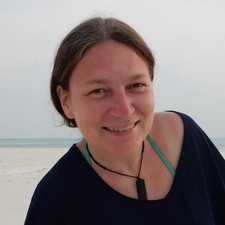 The 2022 Marie Tharp Medal is awarded to Francesca Funiciello in recognition of remarkable achievements in convergent margin geodynamics and for pioneering use of analogue modelling to investigate tectonic processes.
The first Marie Tharp Medal is awarded to Francesca Funiciello in recognition of her remarkable achievements in the field of convergent margin geodynamics and for her pioneering use of analogue modelling to investigate plate tectonic processes. Her work has profoundly influenced global research by providing new insights into the fundamental principles of mantle convection, plate tectonic processes, and in particular, subduction geodynamics and related seismicity. In her research, Francesca Funiciello uses a rigorous inter-disciplinary approach combining analogue and numerical modeling with analysis of geological and geophysical data.
As head of the Laboratory of Experimental Tectonics (LET) at the University Roma Tre, she has developed innovative analogue modeling techniques characterized by careful design, material testing and benchmarking, state-of-the-art visualization techniques and, more recently, integrating cutting-edge methods of machine learning and statistical analyses. Through her passionate and generous leadership, the LET has become a world leader in experimental studies, bringing together new and established researchers from all over the globe. The importance of her work is reflected in her dynamic collaboration with top level international scientists. Her creative and seminal work on subduction dynamics elegantly illustrates the complexities of 3D mantle flow during subduction, notably its partitioning into poloidal and toroidal components, and the role of lithosphere-asthenosphere interactions and the seismic cycle in subduction zones. A wealth of new research avenues has been stimulated by her group's research, establishing physical modelling as an essential tool in Earth Sciences. Her models provide a framework for the study of a variety of geological phenomena associated with convergent margins including seismic wave anisotropy, fluid transport, magmatism and dynamic topography.
Francesca Funiciello is also recognized for her important regional work, notably on mantle dynamics and plate tectonics of the Mediterranean but also in many other regions of the world (South America, India, Tibet, Arabian plate, West Pacific).
Throughout her career, she has served her community through leadership of several European ITN and ERASMUS projects, participation in various scientific committees at international, national and local levels, the organization of many conferences and editorship of numerous volumes. For more than 10 years, she has contributed to the Educational Programs of the European Geosciences Union, GIFT. She has been an unselfish mentor and role model to many young scientists (12 postdoctoral researchers, 15 PhD students), most of whom now have established academic positions.
For all these reasons, Francesca Funiciello is a worthy recipient of the first Marie Tharp medal.