Ana Aguiar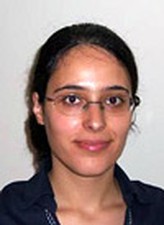 AS Atmospheric Sciences
The 2005 Young Scientist Outstanding Poster Paper (YSOPP) Award is awarded to Ana Aguiar for the poster/PICO entitled:
Instabilities of a barotropic rotating shear layer in a rotating fluid (Aguiar A.; Read, P.)
Click here to download the poster/PICO file.
Ana Aguiar is currently a 2nd year DPhil student at the Department of Atmospheric, Oceanic and Planetary Physics in the University of Oxford, under the supervision of Professor Peter Read. The present work aims to study the response of a detached shear layer to boundary conditions of different topography, combined with either prograde or retrograde mechanical forcings, in a barotropic rotating fluid. Her particular interests are in laboratory experiments and numerical simulation of hydrodynamic instabilities and their applications in geophysical and planetary fluid dynamics.