Andrew Vlasenko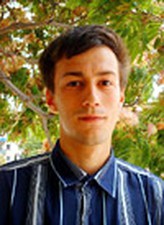 AS Atmospheric Sciences
The 2005 Young Scientist Outstanding Poster Paper (YSOPP) Award is awarded to Andrew Vlasenko for the poster/PICO entitled:
The role of surface active agents in the processes of heat (mass) transfer in a system ocean-atmosphere (Vlasenko, A.V.; Lapchin, V.B.)
Click here to download the poster/PICO file.
Andrew Vlasenko received his BSc degree in Physical Oceanography at Moscow Institute of Physics and Technology (State University) in 2004. His MSc thesis concerns the problem of ocean-atmosphere interaction with the focus on theoretical and numerical modelling of gravity/capillary convection.