Christine Brings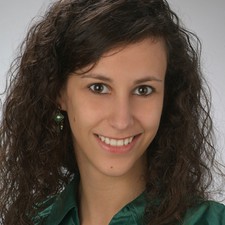 SSS Soil System Sciences
The 2014 Outstanding Student Poster (OSP) Award is awarded to Christine Brings for the poster/PICO entitled:
Structure-from-Motion as a method to quantify erosion volumes and to identify sediment sources in eroding rills (Brings, C.; Remke A.; Gronz, O.; Becker, K.; Seeger, M.; Ries, J.)
Click here to download the poster/PICO file.
Christine Brings is a PhD student of the faculty of Physical Geography at the Universität Trier, Germany. She works in the field of experimental erosion research. Her main activity and her PhD thesis focus on terrestrial close-range photogrammetry and aerial photography. The awarded poster presents a method to identify sediment sources and to calculate erosion volumes of eroding rills via terrestrial photography with a video camera.