Martina Ueckert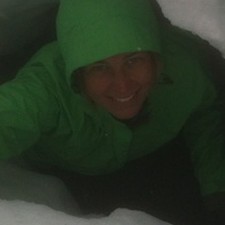 HS Hydrological Sciences
The 2014 Outstanding Student Poster (OSP) Award is awarded to Martina Ueckert for the poster/PICO entitled:
Colloids in the River Inn (Ueckert, M.; Niessner, R.; Baumann, T.)
Click here to download the poster/PICO file.
Martina Ueckert is a PhD student at the Institute of Hydrochemistry, Technical University Munich, in the group of PD Dr. Thomas Baumann. Her research focuseson High Temperature Aquifer Storage in the Bavarian Molasse Basin. During her bachelor thesis at the same institute she was participating in an investigation on the biological, geological and anthropogenic influences on the particulate matter in the river Inn. Since these first data from 2008 were promising, her supervisor and her decided to continue the investigations and two more sampling campaigns were performed in 2013 and 2014. The EGU 2014 poster summarizes the results about concentration, size distribution and elemental composition of particles in the river Inn which were obtained by means of filtration and ensuing acid digestion resp. SEM/EDX analysis.