Giulia Mazzotti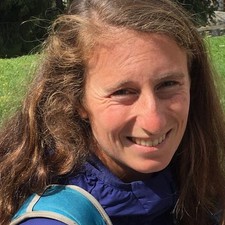 HS Hydrological Sciences
The 2021 Virtual Outstanding Student and PhD candidate Presentation (vOSPP) Award is awarded to Giulia Mazzotti for the poster/PICO entitled:
Improved representation of forest snow processes in coarse-resolution models: Lessons learnt from upscaling hyper-resolution simulations (Mazzotti, G.; Webster, C.; Essery, R.; Malle, J.; Jonas, T.)
Click here to download the poster/PICO file.
Giulia Mazzotti did her PhD in the Snow Hydrology Research Group at the Institute for Snow and Avalanche Research (SLF) in Davos, Switzerland. Her research focuses on snow-vegetation interactions, addressing both the development of observational techniques and improved representation of these processes in land surface models. The vPICO presented at EGU 2021 showcased the use of meter-scale forest snow modelling to bridge the gap between detailed observations of small-scale process variability and intermediate-resolution model applications. The work allowed deriving new ways to effectively account for the impact of heterogeneous forest canopy structure at these resolutions. In her current PostDoc position, she is integrating these approaches into Switzerland's operational snow-hydrological forecasting model.