Joanne Elkadi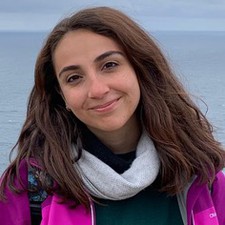 CL Climate: Past, Present & Future
The 2021 Virtual Outstanding Student and PhD candidate Presentation (vOSPP) Award is awarded to Joanne Elkadi for the poster/PICO entitled:
Constraining past bedrock surface temperatures at the Gorner glacier, Switzerland, using feldspar thermoluminescence for surface paleothermometry (Elkadi, J.; Biswas, R.; King, G.; Herman, F.)
Click here to download the poster/PICO file.
Joanne Elkadi is a PhD student from the Institute of Earth Surface Dynamics at the University of Lausanne (Switzerland), working with Professor Frédéric Herman and Professor Georgina King. Her research focusses on developing a more detailed understanding of Quaternary environmental conditions and landscape evolution in mountainous regions, particularly adjacent to glaciers. This is done through various recently developed applications of luminescence dating that allow her to constrain post-glacial bedrock surface erosion rates and paleo-temperatures. Her PICO reports preliminary results from feldspar thermoluminescence surface paleothermometry on samples surrounding the Gorner Glacier, Switzerland.