Bastien Ruols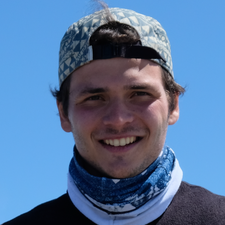 CR Cryospheric Sciences
The 2022 Outstanding Student and PhD candidate Presentation (OSPP) Award is awarded to Bastien Ruols for the poster/PICO entitled:
Drone-based GPR system for 4D glacier data acquisition (Ruols, B.; Baron, L.; Irving, J.)
Click here to download the poster/PICO file.
Bastien Ruols is a PhD student in the Institute of Earth Sciences at the University of Lausanne, Switzerland, working under the supervision of Dr. James Irving. A primary objective of Bastien's project is the development of a drone-based ground-penetrating radar (GPR) system for alpine glacier surveying. In comparison with data acquisition by aircraft or helicopter, the drone can fly close enough to the glacier surface to record high-resolution and high-density 3D GPR data. In comparison with surveys on foot, the drone system is much more efficient and safer in the sense that dangers such as moulins or crevasses can be avoided. Further, precise positioning using differential GPS technology allows for the repeat acquisition of 3D data sets, this providing 4D data. So far, the drone-based GPR system has been successfully tested on several Swiss glaciers, and 4D data acquisition began in the summer of 2022 with the end goal of investigating internal glacier dynamics.