Bridget Warren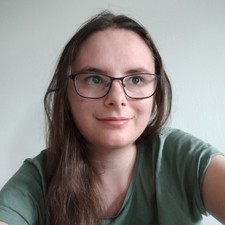 BG Biogeosciences
The 2022 Outstanding Student and PhD candidate Presentation (OSPP) Award is awarded to Bridget Warren for the poster/PICO entitled:
Impacts of post-photosynthetic fractionation on the carbon isotopic composition of leaf wax n-alkanes under elevated CO2 (Warren, B.; Bendle, J.; Yamoah, K. A.; Eley, Y.)
Bridget Warren is a PhD candidate in the department of Geography, Earth and Environmental Sciences at the University of Birmingham, working with Dr James Bendle, Dr Sarah Greene and Professor Jason Hilton. Their research focusses on using organic geochemistry to understand the environmental impacts of high CO2 worlds.
The research presented at EGU 2022 shows that increased atmospheric CO2 concentration influences plant wax n-alkane biomarkers' post-photosynthetic fractionation in a modern FACE experiment from 2018 to 2022. This research both highlights the importance of understanding biosynthetic processes in the interpretation of organic geochemical datasets in the geologic record, and indicates that elevated CO2 concentrations may influence plant lipid chemistry in the modern.