Carolina Machado Lima de Camargo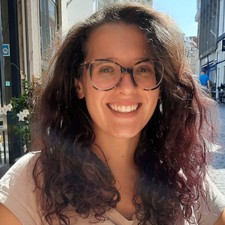 CL Climate: Past, Present & Future
The 2022 Outstanding Student and PhD candidate Presentation (OSPP) Award is awarded to Carolina Machado Lima de Camargo for the poster/PICO entitled:
Regionalizing the Sea-level Budget Using a Neural Network Approach (Camargo, C. M. L.; Marcos, M.; Hernandez-Carrasco, I.; Hermans, T. H. J.; Riva, R. E. M.; Slangen, A. B. A.)
Click here to download the poster/PICO file.
Carolina Camargo is a PhD Candidate in the Department of Estuarine and & Delta Systems in The Royal Netherlands Institute for Sea Research (NIOZ) and at the Department of Geosciences and Remote Sensing at Delft University of Technology. Her research focuses on the closure the regional sea-level budget, that is, attributing the observed sea-level change to its drivers on a regional level. She uses several sea-level observations – from satellites, Argo floats, ocean reanalysis, and others – to obtain the regional contributions to sea-level change. Another part of her research is to identify regions to analyse the sea-level budget. All of this was summarised in her awarded presentation at EGU 2022, in which she presented the closure of the sea-level budget on sub-basins regions identified with a neural network approach (self-organising maps).