Ingrid Bjørge-Engeland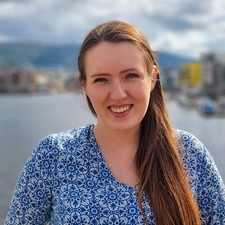 NH Natural Hazards
The 2022 Outstanding Student and PhD candidate Presentation (OSPP) Award is awarded to Ingrid Bjørge-Engeland for the poster/PICO entitled:
Observations by ASIM of Terrestrial Gamma-ray Flashes accompanied by Elves (Bjørge-Engeland, I.; Østgaard, N.; Mezentsev, A.; Skeie, C. A.; Sarria, D.; Lapierre, J.; Lindanger, A.; Neubert, T.; Marisaldi, M.; Lehtinen, N.; Chanrion, O.; Ullaland, K.; Yang, S.; Genov, G.; Christiansen, F.; Reglero, V.)
Click here to download the poster/PICO file.
Ingrid Bjørge-Engeland is a PhD-student at the Birkeland Centre for Space Science, University of Bergen (Norway). Her research in the Hard Radiation from Thunderstorms group, led by Prof. Nikolai Østgaard and Prof. Martino Marisaldi, focuses on the relation between Terrestrial Gamma-ray Flashes (TGFs) and Elves.
The study presented at EGU concerns observations of TGFs accompanied by Elves by the Atmosphere-Space Interactions Monitor (ASIM). 17 simultaneous observations of TGFs and Elves were presented and compared to other TGF detections by the ASIM instrument and to a large set of lightning radio atmospherics detected by the global lightning detection network GLD360. The TGFs with Elves have particularly short durations and are associated with very high peak current lightning. The study also indicates that short duration TGFs tend to be associated with high peak current lightning.