Janbert Aarnink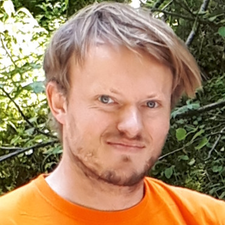 GM Geomorphology
The 2022 Outstanding Student and PhD candidate Presentation (OSPP) Award is awarded to Janbert Aarnink for the poster/PICO entitled:
Teaching Machines Instream Wood (Aarnink, J.; Vuaridel, M.; Beucler, T.; Ruiz-Villanueva, V.)
Click here to download the poster/PICO file.
Janbert Aarnink is a PhD student from the Institute of Earth Surface Dynamics (IDYST) at the University of Lausanne (UNIL, Switzerland), working with Professor Virginia Ruiz-Villanueva. His research focuses on the quantification of large wood transport in rivers. Wood is trackED using RFID technology and observed using RFID antennas and video-cameras along with the use of drone imagery. His PICO reports on preliminary results of a wood detection algorithm and the use of RFID technology.