Kajetan Chrapkiewicz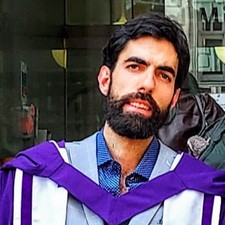 GMPV Geochemistry, Mineralogy, Petrology & Volcanology
The 2022 Outstanding Student and PhD candidate Presentation (OSPP) Award is awarded to Kajetan Chrapkiewicz for the poster/PICO entitled:
Magma chamber imaged beneath an arc volcano (Chrapkiewicz, K.; Paulatto, M.; Morgan, J.; Warner, M.; Heath, B.; Hooft, E.; Toomey, D.; Schmid, F.; Nomikou, P.; Papazachos, C.)
Click here to download the poster/PICO file.
Kajetan Chrapkiewicz completed his PhD in the Department of Earth Science & Engineering, Imperial College London. Before, he studied physics and geology at the University of Warsaw. He specialises in combining wave mechanics, inverse theory and numerical methods to solve Earth science problems. At EGU he showed a first-ever application of 3D high-resolution seismic imaging to active-source data collected at an arc volcano. Not only are such volcanoes hazardous but they also play a key role in chemical cycling and formation of the continental crust. His 3D image of the submarine Kolumbo volcano (Santorini, Greece) revealed a previously undetected reservoir of molten rock, aiding in the hazard assessment and showing the superior resolving power of the applied method.