Michelle Maclennan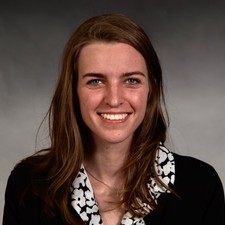 CR Cryospheric Sciences
The 2022 Outstanding Student and PhD candidate Presentation (OSPP) Award is awarded to Michelle Maclennan for the poster/PICO entitled:
Climatology and Surface Impacts of Atmospheric Rivers on West Antarctica (Maclennan, M. L.; Lenaerts, J. T. M.; Shields, C. A.; Hoffman, A. O.; Wever, N.; Thompson-Munson, M.; Winters, A. C.; Pettit, E. C.; Scambos, T. A.; Wille, J.D.)
Click here to download the poster/PICO file.
Michelle Maclennan is a PhD Candidate in the Department of Atmospheric and Oceanic Sciences at the University of Colorado Boulder. She researches storm systems and the impacts of extreme precipitation on the Antarctic Ice Sheet in the Synoptic Meteorology group led by Prof. Andrew Winters.
Atmospheric rivers are long, narrow bands of warm and moist air that cause intense precipitation and surface melting on the Antarctic Ice Sheet. In her work presented at EGU 2022, Michelle develops a climatology of these rare and intense events over West Antarctica. Then, she delves into a case study of a particular event consisting of three atmospheric rivers that made landfall over West Antarctica in rapid succession in February 2022, using a combination of in-situ measurements and atmospheric reanalysis products to quantify the snow accumulation and surface melting associated with the event.