Patrick Barth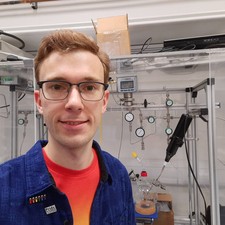 PS Planetary and Solar System Sciences
The 2022 Outstanding Student and PhD candidate Presentation (OSPP) Award is awarded to Patrick Barth for the poster/PICO entitled:
Nitrogen fixation by lightning and its role for early life on Earth and exoplanets (Barth, P.; Stüeken, E.; Helling, C.; Rossmanith, L.; Walters, W.; Peng, Y.; Claire, M.)
Click here to download the poster/PICO file.
Patrick Barth is a PhD student at the St Andrews Centre for Exoplanet Science (University of St Andrews, UK) and the Space Research Institute at the Austrian Academy of Sciences (Graz, Austria). In his interdisciplinary research, Patrick is investigating the role of lightning on the atmospheric chemistry of Earth and exoplanets, combining experimental results with computer simulations.
For the EGU General Assembly 2022, Patrick presented his recent experimental results on nitrogen fixation by lightning on the early Earth. Comparing the isotopic composition of the fixed nitrogen products in the experiment to the sedimentary rock record allowed to investigate lightning contributions of nutrients for the earliest forms of life.