Yosra Afrasteh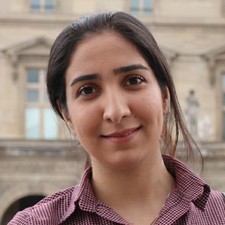 G Geodesy
The 2022 Outstanding Student and PhD candidate Presentation (OSPP) Award is awarded to Yosra Afrasteh for the poster/PICO entitled:
New realization for European vertical reference system; a first attempt to include the Hydrodynamic Leveling data (Afrasteh, Y.; Slobbe, C.; Verlaan, M.; Sacher, M.; Klees, R.; Guarneri, H.; Keyzer, L.; Pietrzak, J.; Snellen, M.; Zijl, F.)
Click here to download the poster/PICO file.
Yosra Afrasteh is a PhD candidate in Geoscience and Remote Sensing department at Delft University of Technology. Her research focuses on height system realization using the model-based hydrodynamic leveling technique. Based on her results presented in EGU2022, the model-based hydrodynamic leveling technique shows great potential in improving the quality and enlarging the extent of the realization of the European Vertical Reference System (EVRS).