Amalie Skålevåg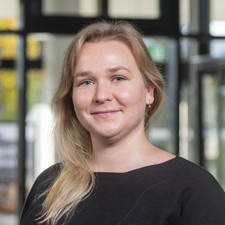 GM Geomorphology
The 2023 Outstanding Student and PhD candidate Presentation (OSPP) Award is awarded to Amalie Skålevåg for the poster/PICO entitled:
Hydro-sediment event types and associated conditions and processes in an alpine catchment (Skålevåg, A.; Korup, O.; Bronstert, A.)
Click here to download the poster/PICO file.
Amalie Skålevåg is a PhD student at the Institute of Environmental Science and Geography at the University of Potsdam, Germany, and is co-supervised by Axel Bronstert and Oliver Korup. Prior to this, she worked at Deutscher Wetterdienst and the University of Potsdam as a research assistant. Her current research revolves around understanding the relevance of changing water and energy conditions for sediment dynamics in alpine areas.