Berend Schuit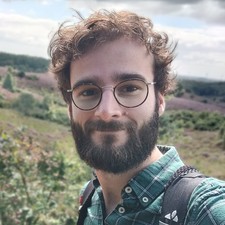 AS Atmospheric Sciences
The 2023 Outstanding Student and PhD candidate Presentation (OSPP) Award is awarded to Berend Schuit for the poster/PICO entitled:
Automated detection and monitoring of methane super-emitters using satellite data (Schuit, B. J.; Maasakkers, J. D.; Bijl, P.; Mahapatra, G.; Van den Berg, A.-W.; Yaakoub, M.; Pandey, S.; Lorente, A.; Borsdorff, T.; Houweling, S.; Varon, D. J.; McKeever, J.; Jervis, D.; Girard, M.; Irakulis-Loitxate, I.; Gorroño, J.; Guanter, L.; Cusworth, D. H.; Aben, I.)
Click here to download the poster/PICO file.
Berend Schuit is a PhD candidate at SRON Netherlands institute for Space Research, and is also affiliated to GHGSat. His research focuses on detecting anthropogenic methane emission plumes from space. He works on developing automated, machine learning based, methods for detecting and monitoring methane super-emitter plumes using data from different satellite instruments in synergy.
The work he presented during EGU23 showed the results of his recent study where a machine learning based detection system was developed and applied to all TROPOMI satellite methane observations of a full year. In this large global dataset, nearly 3.000 plumes were detected, most of them clustered in areas with human activities known to cause methane emissions. Several of those locations were then inspected with high-resolution satellite instruments, revealing the exact infrastructure/equipment responsible for the methane emissions and enabling mitigation activities.