Christhel Andrade Diaz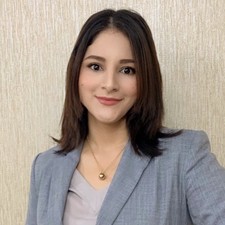 SSS Soil System Sciences
The 2023 Outstanding Student and PhD candidate Presentation (OSPP) Award is awarded to Christhel Andrade Diaz for the poster/PICO entitled:
Strengthening the bioeconomy in tropical countries while preserving soil organic carbon stocks by recycling recalcitrant coproducts: A case study for Ecuador (Andrade Diaz, C.; Balugani, E.; Zamora-Ledezma, E.; Hamelin, L.)
Click here to download the poster/PICO file.
Christhel Andrade is a final year PhD student at the National Institute of Applied Sciences (INSA) of Toulouse at the Federal University of Toulouse, supervised by Lorie Hamelin at the Toulouse Biotechnology Institute as part of the Cambioscop project (https://cambioscop.cnrs.fr/) and co-supervised by Ezequiel Zamora at the Technical University of Manabí in Ecuador. Her research focuses on the interplay between supplying crop residues to the bioeconomy and the evolution of soil organic carbon stocks. Her study is applied with high resolution at the national scale of France and Ecuador. At EGU 2023 Christhel presented an adaptation of the soil carbon model RothC to simulate the long-term soil organic carbon stocks when recalcitrant carbon from four bioeconomy coproducts (i.e., biochar from pyrolysis and gasification, hydrochar, and digestate) are returned to tropical croplands. Here, Christhel presented the results applied to the case study of Ecuador, applied with high resolution for more than 15,000 simulation units, for the period 2020-2070. The results included a sensitivity analysis considering the priming effect of the recalcitrant coproducts in croplands.