Dominique Townsend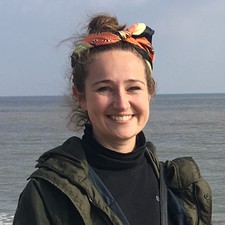 GM Geomorphology
The 2023 Outstanding Student and PhD candidate Presentation (OSPP) Award is awarded to Dominique Townsend for the poster/PICO entitled:
Linking nearshore morphological change to long term observed sand loss from a mixed sediment beach (Townsend, D.; Leyland, J.; Kassem, H.; Thompson, C.; Townend, I.)
Click here to download the poster/PICO file.
Dominique Townsend is a PhD candidate and Teaching Fellow at the University of Southampton, UK, under lead supervision of Dr. Julian Leyland. Her research explores the morphodynamic behaviour of the coastal nearshore zone in mixed sediment systems using rapid survey methods. In her poster presentation at EGU23 she demonstrated how variation in sea surface roughness, measured using X-band radar, could be used to identify undulating bedforms within her study site. These features were shown to mobilise during the winter period and their periodicity was linked to rhythmic erosion and accretion patterns in the upper beach.