Herman Fuglestvedt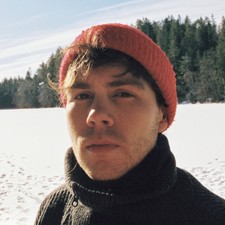 AS Atmospheric Sciences
The 2023 Outstanding Student and PhD candidate Presentation (OSPP) Award is awarded to Herman Fuglestvedt for the poster/PICO entitled:
Arctic Polar Vortex Controls Aerosol Evolution After High-Latitude Volcanic Eruptions (Fuglestvedt, H. F.; Zhuo, Z.; Toohey, M.; Krüger, K.)
Click here to download the poster/PICO file.
Herman Fuglestvedt is a PhD candidate at the University of Oslo's Department of Geosciences. His research focuses on understanding how stratospheric aerosols and atmospheric composition evolve after large volcanic eruptions at high latitudes. He combines Earth System modelling with proxy records to study both past and hypothetical high-latitude eruptions and their effects on the climate and environment. In his EGU 2023 presentation, Herman used idealised aerosol-climate model experiments to show how the Arctic polar vortex plays a crucial role in the formation and growth of aerosols after large releases of sulphur dioxide in the high-latitude Northern Hemisphere.