Jamie Mathews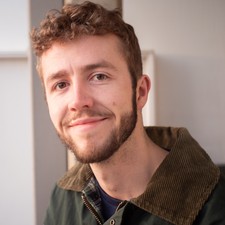 NP Nonlinear Processes in Geosciences
The 2023 Outstanding Student and PhD candidate Presentation (OSPP) Award is awarded to Jamie Mathews for the poster/PICO entitled:
How Oceans Create Extreme Temperatures (Mathews, J.; Czaja, A.)
Click here to download the poster/PICO file.
Jamie Mathews is a PhD student at Imperial College London under the supervision of Dr. Arnaud Czaja and is part of the EDIPI project which is funded by the European Union's Horizon 2020 research and innovation programme under Marie Skłodowska-Curie grant No. 956396. His research focuses on the modulation of the jet stream, specifically a phenomenon known as atmospheric blocking, by the Gulf Stream. Atmospheric blocking is responsible for the generation of extreme temperatures and hence, any advancement in its prediction and theoretical understanding is vital for future forecasts and societal protection.