Jana-Sophie Appelt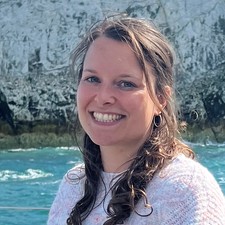 SSS Soil System Sciences
The 2023 Outstanding Student and PhD candidate Presentation (OSPP) Award is awarded to Jana-Sophie Appelt for the poster/PICO entitled:
Estuarine filter for trace metals and emerging contaminants: An example from Southampton Water, UK (Appelt, J.-S.; Cundy, A.; Whiteside, J.; Bray, S.)
Click here to download the poster/PICO file.
Jana-Sophie Appelt is a PhD candidate at the School of Ocean and Earth Science at the University of Southampton, UK. As part of the (organic) Geochemistry group, her research focuses on the fate and behaviour of contaminants, such as trace metals, PAHs and hormones, in coastal and estuarine sediments.
At EGU23, Jana presented the objectives, first results and the ongoing work of her PhD. The spatial and temporal distribution of trace metals, and their associations with sediment components in the study area Southampton Water were shown. Ongoing work includes the analysis of hormones and PAHs in the sediments with GC-MS. Adsorption/desorption experiments will give a more thorough understanding of the behaviour of different contaminant groups in sediments, and the sediment properties that influence the contaminant behaviour.