José Ángel Callejas Rodelas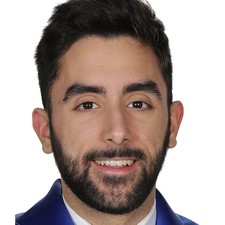 AS Atmospheric Sciences
The 2023 Outstanding Student and PhD candidate Presentation (OSPP) Award is awarded to José Ángel Callejas Rodelas for the poster/PICO entitled:
Intercomparison of lower-cost and conventional eddy covariance systems for CO2 and H2O flux measurements above cropland monoculture and agroforestry (Callejas Rodelas, J. Á.; van Ramshorst, J.; Knohl, A.; Markwitz, C.)
Click here to download the poster/PICO file.
José Ángel Callejas Rodelas is a PhD candidate at the Department of Bioclimatology, University of Göttingen (Germany), under supervision of Prof. Alexander Knohl and Dr. Christian Markwitz. His research focusses on the evaluation of energy, mass and momentum exchange between the atmosphere and both agroforestry and monocropping agricultural systems in Northern Germany. These exchanges are quantified through the eddy covariance technique, based on atmospheric turbulence. One of the keys of the project is the use of lower-cost eddy covariance systems, which need first to be evaluated against conventional eddy covariance. These results were presented at EGU23 and the main message was that these newer set-ups can be deployed, under some considerations and specific treatments, similarly to conventional eddy covariance set-ups.
Some further research objectives are the evaluation of longer term carbon and water atmospheric-ecosystem relations and the surface energy balance (biophysical effects) of different land use systems, together with the structure of atmospheric turbulence and the dynamics of the atmospheric boundary layer.