Kai Bröker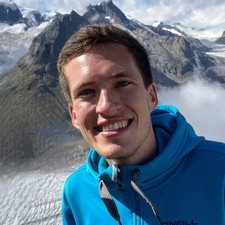 ERE Energy, Resources and the Environment
The 2023 Outstanding Student and PhD candidate Presentation (OSPP) Award is awarded to Kai Bröker for the poster/PICO entitled:
Slip tendency and reactivation pressure prediction of natural fractures at the Bedretto Underground Laboratory, Switzerland (Bröker, K.; Ma, X.; Stadler, D.; Doonechaly, N. G.; Hertrich, M.; Giardini, D. & the Bedretto Lab team)
Click here to download the poster/PICO file.
Kai Bröker is currently a doctoral student at ETH Zürich, supervised by Prof. Domenico Giardini and Prof. Xiaodong Ma within the Seismology and Geodynamics (SEG) group. He started his doctoral studies in 2019, after his completion of the IDEA League Joint Master's programme in Applied Geophysics at ETH Zürich, TU Delft, and RWTH Aachen University.
Kai's research focuses on geomechanical aspects of Engineered Geothermal Systems (EGS), including stress field measurements, fracture characterization, and hydraulic stimulation experiments. He works in the Bedretto Underground Laboratory for Geosciences and Geoenergies, where meso-scale hydraulic stimulation experiments are conducted in a granitic rock mass up to 1.5 kilometres below the surface. The aim is to study the seismo-hydro-geomechanical rock mass response to fluid injection and to investigate how sustainable heat exchangers can be created in the deep subsurface. In his work presented at EGU 2023, Kai validates probabilistic slip tendency and reactivation pressure estimates through observed reactivation signatures in the flow rate and pressure data obtained from hydraulic stimulation experiments. The natural fractures were logged along a 400m-long stimulation borehole. The results help to design the injection protocols for efficient hydraulic stimulations in crystalline rock.