Shoobhangi Tyagi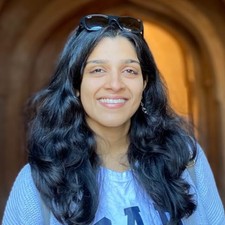 HS Hydrological Sciences
The 2023 Outstanding Student and PhD candidate Presentation (OSPP) Award is awarded to Shoobhangi Tyagi for the poster/PICO entitled:
Implications of 1.5°C global warming for agricultural productivity over a global rice exporting region in Central India (Tyagi, S.; Sahany, S.; Saraswat, D.; Mishra, S. K.; Dubey, A.; Niyogi, D.)
Click here to download the poster/PICO file.
Shoobhangi is a Ph.D. student at the Centre for Atmospheric Sciences at the Indian Institute of Technology Delhi and a former Overseas Visiting Doctoral Fellow at Purdue University. Her research investigates regional-scale agricultural losses in a 1.5°C warmer world using a climate-sensitive rice-exporting Indian region as a testbed. She uses hydrological-crop-economic models to quantify climate-induced losses in agriculture.
Her awarded presentation at EGU highlighted uncertainties in the implications of 1.5°C global warming on regional climate variables and hydrological components crucial for agricultural productivity. The changes in rice yield, vital for ensuring food security and global rice export, were discussed. She aims to assess the significance of sustainable management practices in alleviating the impact of global warming on climate-sensitive regions.