Yuly Paola Rave Bonilla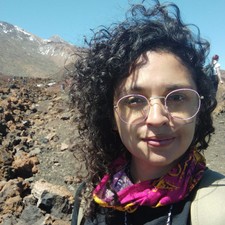 NH Natural Hazards
The 2023 Outstanding Student and PhD candidate Presentation (OSPP) Award is awarded to Yuly Paola Rave Bonilla for the poster/PICO entitled:
Numerical modelling of the volcanic emissions dispersion from La Soufrière de Guadeloupe (Rave Bonilla, Y. P.; Jessop, D. E.; Moune, S.)
Click here to download the poster/PICO file.
Yuly is a geologist from the Universidad Nacional de Colombia and from the beginning of her career, she began working in different areas of volcanology. Therefore, her bachelor's thesis was on columnar jointing structures, around the Nevado del Ruiz volcano in Colombia.
She had the opportunity to complete two master's degrees at the Universidad de Salamanca in Spain and at the Université Clérmont-Auvergne University in France, where her research projects focused on: 1) the tracing of wood silicification processes in volcanic environments through the analysis of stable isotopes and 2) numerical modeling of the dispersion of volcanic gas emissions.
Currently, she is completing her PhD at the University of South Florida where she is working on a spectral analysis of the seismicity of the Nevado del Ruiz volcano and the geochemical and geomorphological characterization of the possibly northernmost monogenetic volcanic field of the Andes.