Claire J. Horwell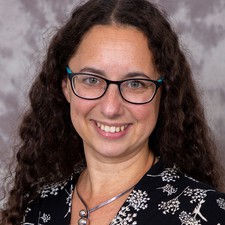 The 2020 Plinius Medal is awarded to Claire J. Horwell for her outstanding interdisciplinary research on the respiratory health implications of volcanic aerosols, including ash, minerals and liquid droplets.
Claire Horwell is a professor at the Institute of Hazard, Risk and Resilience at the Department of Earth Sciences at Durham University in the United Kingdom. Her contributions to science, society and her university through teaching and administration were recently recognised with her promotion to Professor in 2019.
Throughout her career, Horwell has bravely sought out the spaces between disciplines where the most progress can be made to help science and society. Through her interdisciplinary focus on the health implications of respiration of volcanic aerosols, including ash, minerals and liquid droplets, she has made a major contribution to the creation of a whole new field of study and greatly helped the mitigation of the risks from this hazard. This was recently recognised with the creation of the GeoHealth Section at the American Geophysical Union, of which she is the founding leader and president.
Horwell has generated novel research pathways that answer questions about the toxicity of respirable volcanic ash and translate these into state-of-the art in exposure assessments. She joined medical research with geochemistry and physical volcanology. Horwell served as the driving force behind the development of the International Volcanic Health Hazard Network, which she has developed into the world's premier resource for interdisciplinary information on volcanic ash health effects. The most successful part of Horwell's work is the translation of quantitative observations of aerosols and the effectiveness of mitigation strategies into clear policy advice, which has been applied in recent volcanic eruptions worldwide. Her work has directly influenced public policy in several countries with regards to the communication of risks from volcanic aerosols and the recommended mitigation strategies.
Horwell has established herself as a clear global leader in transdisciplinary science, working with the medical and public health science communities to help them understand the health implications of volcanic ash and other atmospheric particulates. She has advised a number of top-notch students and postdocs and is highly published, including in journals in the public health and toxicology realms, which highlights the transdisciplinary nature of her research as an Earth scientist.
Horwell also provided key support for the local public health community on the recent Kilauea eruption. She helped establish a new partnership with the public health community that resulted in the development of an innovative, online dashboard providing eruption status and health advisories for volcanic fog, laze and ash.
In summary Claire Horwell has, through her scientific excellence and her high-impact, transdisciplinary research, made exceptional contributions to understanding the health implications of volcanic aerosols, including ash, minerals and liquid droplets, making her eminently worthy of receiving the Plinius Medal.