Slobodan Nickovic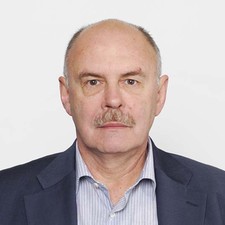 The 2022 Plinius Medal is awarded to Slobodan Nickovic for pioneering work on modelling sand and dust storms and for significant contributions to the development of a global dust advisory and warning system.
Slobodan Nickovic is a research consultant at the University of Physics in Belgrade, Serbia. Throughout his career he worked for national and international educational, scientific, and operational institutions including Universities of Belgrade, Athens and Malta, national Federal Authority for Air Traffic Control, national hydrometeorological institutes and the World Meteorological Organization (WMO).
Nickovic has dedicated a great part of his life to improving our knowledge of mineral dust cycles. Dust is a natural hazard that severely negatively impacts human health, air and land transport, energy, and agriculture and affects hundreds of millions of people in dozens of countries, resulting in a huge number of deaths annually around the globe. Nickovic has done pioneering scientific work on predicting atmospheric sand and dust storms and has developed the first operational prognostic dust regional atmospheric model, DREAM. The model is based on advanced consideration of near-surface turbulent conditions as the key factor for dust emission. By 2006, the DREAM model had been implemented operationally, at a national level, in Greece, Tunisia and Malta. Then, following the 2006 meeting of the Steering Committee of the Sand and Dust Storm project, Nickovic, through the WMO, coordinated the development and implementation of the Sand and Dust Warning Advisory and Assessment System (SDS-WAS), likely one of the first successful global environmental systems. SDS-WAS nowadays provides a platform for public warnings on expected dust storms over various regions around the world and, consequently, helps to mitigate related damage to human health, and air and ground transport.
Nickovic guided all subsequent SDA-WAS scientific developments in such a way that created close relationships and communication with user communities, and development of practical national applications. He coordinated efforts of international UN bodies, such as the WMO, UNEP, UNCCD, centres of global prediction and observation (ECMWF, NOAA, NASA), national research centres, national meteorological and hydrological services, and academia, in many countries all over the world, with the aim of further developing and implementing dust warning systems. He was also instrumental in broadening the use of the DREAM model for Arctic regions, such as Iceland, which is one of the dustiest areas on the Earth, with wide ranging consequences for the Arctic environments, including atmospheric impacts, climate forcing, snow-melt, ocean fertilization, and human health.
In addition to his work on operational aspects of dust warning, Nickovic has continued to work at a scientific level throughout his rich career. His cutting-edge research added significant value to several fields related to the modelling of atmospheric processes, aerosol transport, environmental impacts, and hydrology modelling. He developed new algorithms, parametrizations, and methodologies for improving mineral dust forecasts.
Nickovic has never lost sight of the fact that dust is a natural hazard of enormous impact for millions of people around the world. His multi-dimensional and cross-disciplinary research activities and engagements have resulted in transfer of scientific knowledge into operational applications of sand and dust storm models for addressing social needs, enhancing policymaking, and supporting evidence-based design.