Daniela Rubatto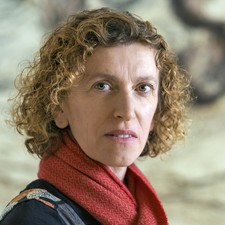 The 2019 Robert Wilhelm Bunsen Medal is awarded to Daniela Rubatto in recognition of fundamental and far-reaching accomplishments in metamorphic petrology, mineralogy, geochronology and tectonics.
Daniela Rubatto' research merges the traditionally separated fields of metamorphic petrology, mineral chemistry, geochronology, trace element and isotope geochemistry and tectonics to quantify highly dynamical geological processes on different length scales. She has pioneered new research approaches aimed at revealing and quantifying processes at the crystal-scale, to understand processes up to the plate tectonic scale.
Her nomination singles out her studies of the trace element contents in zircon and co-existing rock forming minerals, that reveal the formation conditions of the mineral assemblage. Rubatto derived this key information via careful in-situ analyses of individual minerals via innovative pioneering application of ion-microprobe analyses of trace element and isotope compositions. This opened up a completely new way for obtaining quantitative information on pressure, temperature, and chemical conditions, as well as timing and duration of metamorphic processes. These studies are a transformative advance in metamorphic petrology because they allow us to understand and quantify dynamic processes over wide temporal and spatial scales. She has led studies to use trace element partitioning to link geochronology based on accessory zircon and other minerals to pressure–temperature conditions retrieved from rock-forming minerals. Rubatto has used these data to address important problems in tectonics, particularly her important early work on the exhumation of ultrahigh pressure metamorphic rocks, and timescales of crustal melting in orogens. Recently, Rubatto has returned to an early interest in characterising cryptic evidence of fluid flow in metamorphic terranes using geochemistry.
An outstanding innovative researcher and distinguished leader at the cutting edge of metamorphic geochemistry and geochronology, Daniela Rubatto is an ideal recipient of the Robert Wilhelm Bunsen Award.