Costas E. Synolakis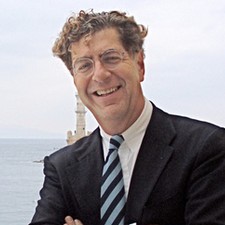 The 2014 Sergey Soloviev Medal is awarded to Costas E. Synolakis for his superb research contributions to tsunami mitigation, combining theory, laboratory experiments, field surveys and the development of widely used numerical codes to improve tsunami mitigation.
Costas E. Synolakis is a renowned leader in tsunami science and mitigation, with contributions spanning a variety of disciplines. They include theoretical studies on subjects such as N waves and formal models of the interaction of waves with beaches, laboratory experiments, field surveys, for which he documented the feasibility of accurately modelling run-up, the development of state-of-the-art simulation algorithms, and the hands-on mitigation of tsunami hazards. Synolakis has published a number of key, highly cited, papers on these topics in top-tier scientific journals. His most important legacy is probably the MOST code (the Method Of Splitting Tsunami model), which he and his students have developed, and which has become the standard used by state agencies for inundation maps along the US Pacific coast. He has mentored a generation of students who have themselves become leaders in academia, industry and government.
Synolakis has an outstanding record of outreach, involving countless lectures, courses, interviews, incisive opinion articles, and has contributed to television documentaries for prestigious networks such as the BBC, Nova or Discovery. Further, he has chaired, or served on, numerous national and international committees charged with the analysis and prevention of natural hazards.
He has also expressed a keen interest in disasters other than tsunamis, including volcanic risk in the Aegean, forest fires and, more recently, the nuclear fallout following the Fukushima disaster, a unique crossover between natural and man-made hazards. He has been awarded the 2010 Man of the Year for the Environment Award (Greece), a Presidential Young Investigator Award (USA), and the County of Los Angeles Award for Leadership in Emergency Preparedness (2001). The excellence and the diversity of Synolakis' achievements make him an outstanding recipient of the 2014 Sergey Soloviev Medal.