Thomas Hofmann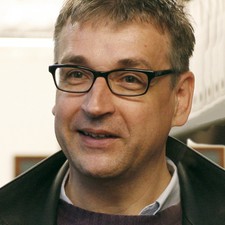 The 2014 Union Service Award is awarded to Thomas Hofmann for numerous contributions to promoting the EGU in an exceptional way and with a high impact at various levels of public outreach and sponsorship.
Thomas Hofmann got his diploma degree in palaeontology at the University of Vienna in 1990. Since 1991 he has been a staff member of the Geological Survey of Austria, starting in the department of mineral resources, moving to public relations and foreign affairs in 2004 and becoming head of library, archive and publishing in 2008.
Hofmann's work focuses on various activities in the fields of public relations, geosites and history of the geosciences. He is author of a great number of popular-science articles in various magazines and newspapers, as well as of more than a dozen books. As a librarian of the greatest geoscientific library of Austria, Hofmann's efforts concentrate on providing literature online following an open access policy. He also endeavours to cooperate with various scientific societies and institutions to provide literature for free, which might otherwise be forgotten.
Hofmann is a member of various national and international organisations, among them the Austrian National Committee of Geosciences and the Commission for Geosciences at the Austrian Academy of Sciences. Due to his open-minded approach, Hofmann is excellently integrated in a broad international network and is able to establish and motivate a professional team for specific projects.
During the International Year of Planet Earth, Hofmann was coordinator of Austrian outreach activities. In this period he became involved in EGU activities and has acted as an important Austrian link to the EGU since then. Since 2013, all EGU publications are shared in the library catalogue of the Geological Survey of Austria providing a special service for the scientific community.