Antje Boetius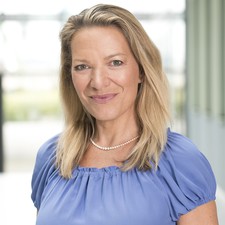 The 2018 Vladimir Ivanovich Vernadsky Medal is awarded to Antje Boetius for groundbreaking contributions to biogeosciences and spearheading research on methane-based metabolisms and the marine carbon cycle.
Antje Boetius is Professor of Geomicrobiology at the University of Bremen and the lead researcher of the Helmholtz–Max Planck Research Group on Deep-Sea Ecology and Technology. After obtaining a PhD from the University of Bremen in Biology, she held research positions with the Institute for Baltic Sea Research in Warnemünde and the Max Planck Institute for Marine Microbiology in Bremen. She was Professor of Microbiology at Jacobs University Bremen and is currently the Vice Director of the MARUM Cluster of Excellence.
Boetius has received numerous awards for her trend-setting research including the Gottfried-Wilhelm-Leibniz Prize of DFG (theGerman Research Foundation), the European Research Council Advanced Investigator Grant, the Gustav-Steinmann-Medal, and the Copernicus Medal. She is a Fellow of the American Academy of Microbiology, and Elected Member of the European Academy of Sciences.
Boetius has made seminal contributions to our knowledge of deep-sea ecosystems, which will undoubtedly have a lasting impact on the field of geomicrobiology. She invigorated research into the anaerobic oxidation of methane with sulphate by providing the first visual proof of the microbial consortium performing this notorious biogeochemical process. By combining cutting-edge microscopic imaging techniques in tandem with DNA, lipid-based as well as inorganic geochemical approaches, Boetius' research elucidated key processes of the marine carbon cycle that are sensitive to global change. This includes microbial methane consumption and the export of algal biomass from melting Arctic sea ice to sediments. Boetius has published more than 175 scientific papers including seven highly cited papers, combining to create an exemplary citation record.
In addition to her fundamental contributions to the fields of marine geomicrobiology, biogeochemistry, and microbial ecology, Boetius has served the community in many ways. As a member of the German Science Council and Vice Chair of its Scientific Commission, she is an adviser for policymakers, has served on many scientific advisory boards, is editor of many scientific journals, and has guided numerous young researchers. Boetius has established new standards for outreach activities in her fields of research, raising awareness for biogeoscience among the general public. She is a luminary of the geomicrobiology community through scientific innovation, scientific coordination and integration, and exemplary public relation efforts. Because of her seminal contributions to biogeosciences, Boetius is a worthy recipient of the Vladimir Ivanovich Vernadsky Medal.