Adina Paytan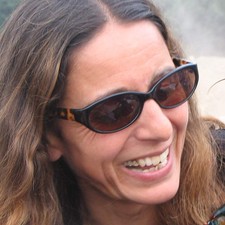 The 2022 Vladimir Ivanovich Vernadsky Medal is awarded to Adina Paytan for outstanding contributions to ocean biogeochemistry in the Earth's present and past, and in particular, for leading the scientific community in linking the sulfur, phosphate and oxygen cycles.
Adina Paytan is a research scientist at the Institute of Marine Sciences, University of California Santa Cruz, USA and an adjunct scientist at the Monterey Bay Aquarium Research Institute. She obtained her PhD in oceanography at the Scripps Institution of Oceanography, University of California San Diego. After a post-doc at Scripps, she became assistant professor at Stanford University and finally moved to the Institute for Marine Sciences at UCSC.
Adina Paytan received numerous honors and awards including the Dansgaard Award, AGU mid-career Paleoceanography Award 2015 and the A.G. Huntsman Award for Excellence in the Marine Sciences from the Royal Society of Canada in 2019. She is an elected fellow of the American Geophysical Union (AGU) (since 2015); the Association of the Sciences of Limnology and Oceanography (ASLO) (since 2017); and the Geochemical Society of the United States of America (since 2014).
Adina Paytan has pioneered the use of sulfur isotopes from barite minerals as a global marker for ocean chemistry refining our current understanding of oxygen evolution in the atmosphere over time. Her pioneering research on phosphorus cycling in marine environments using 31P-NMR and the oxygen isotope composition of dissolved phosphate transformed the field, and her pivotal contribution on linkages between aerosol deposition, marine productivity and phytoplankton diversity are outstanding. In her recent Science paper she published a groundbreaking 35-million-year record of seawater Sr isotopes, which has helped assess the fluctuations between the global carbon cycle, global carbonate burial and the role of weathering. Overall Adina Paytan has published more than 270 papers and has an excellent google scholar h-index of 72 and i10-index of 207.
In addition to her scientific contributions to ocean biogeosciences, Adina Payton has tirelessly served the community in a number of ways. For many years she served in several scientific committees of the American Association for the Advancement of Science and the American Geophysical Union. She was editor of G3, Marine Geology, Marine Chemistry and L&O Methods and has co-chaired several organising committees for scientific conferences. Her outstanding engagement in public outreach and mentoring has significantly increased the participation of junior scientists, particularly of women and underrepresented groups, in the geophysical research community.
It is difficult to think of a more worthy recipient of the Vladimir Ivanovich Vernadsky Medal than Adina Paytan, who truly upholds Vernadsky's legacy. She has been a dedicated leader for the marine biogeoscience community through scientific innovation, outstanding communication activities and community service.