Roman Hüppi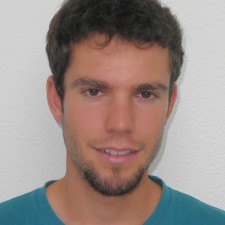 SSS Soil System Sciences
The 2014 Outstanding Student Poster (OSP) Award is awarded to Roman Hüppi for the poster/PICO entitled:
Effects of biochar addition to soil on nitrogen fluxes in a winter wheat lysimeter experiment (Hüppi, R.; Leifeld, J.; Neftel, A.; Conen, F.; Six, J.)
Click here to download the poster/PICO file.
Roman is a PhD student at the Agroscope Research Zurich and ETH Zurich, Switzerland. He obtained his MSc degree in Environmental Science with a Major in Atmospheric Science at the ETH Zurich. In his research activity he is investigating the impact of biochar on greenhouse gas and nitrogen fluxes in agricultural systems. His poster showed the results from the first year's lysimeter experiment with winter wheat cropping. Biochar did not show significant differences in nitrogen fluxes in both soils, neither in plant nitrogen uptake, leaching or soil nitrogen content. Only nitrous oxide emissions were slightly reduced from the biochar treatment. So short term effects in intensive temperate agricultural systems are difficult to detect and rather small.