David Bonneau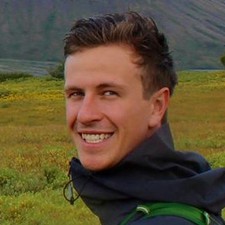 NH Natural Hazards
The 2018 Outstanding Student Poster and PICO (OSPP) Award is awarded to David Bonneau for the poster/PICO entitled:
The Use of Terrestrial Laser Scanning for the Characterization of Debris Accumulation Patterns in the White Canyon, British Columbia (Bonneau, D. A.; Hutchinson, D. J.; McDougall, S.)
Click here to download the poster/PICO file.
David A. Bonneau is a PhD candidate in geological engineering at Queen's University under the supervision of Drs. D. Jean Hutchinson and Scott McDougall (UBC). His research is part of the Canadian Railway Ground Hazard Research Program and focuses on the application of remote sensing for the characterization of debris channel failure processes.
The aim of the presented study was to demonstrate a methodology to monitor the spatial and temporal accumulation of debris on a slope with terrestrial laser scanning. This methodology will help evaluate the recharge threshold for debris flow initiation as suggeted by the supply-limited theory.