Maximilian Ramgraber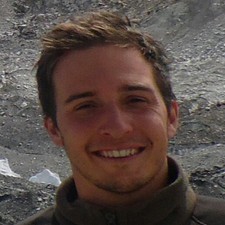 HS Hydrological Sciences
The 2018 Outstanding Student Poster and PICO (OSPP) Award is awarded to Maximilian Ramgraber for the poster/PICO entitled:
Joint data assimilation and parameter calibration in real-time groundwater modelling using nested particle filters (Ramgraber, M.; Schirmer, M.)
Click here to download the poster/PICO file.
Maximilian Ramgraber is a PhD student at the Swiss Federal Institute of Aquatic Science and Technology (Eawag) in Dübendorf, Switzerland. His research focuses on groundwater modelling frameworks capable of assimilating data to autonomously improve their parameters. The poster presented at EGU 2018 showed results obtained from a nested particle filter, an optimization algorithm functioning similarly to biological evolution. This approach demands an efficient mutation scheme, which was achieved through hyperparameterization – the definition of a simpler, hidden logic behind the mutation of the parameter field. As a welcome side effect, this can guarantee conformance to user-specified geological characterizations, an important aspect in hydrogeological models. The poster illustrated synthetic results for three different geological characterizations.