Rhianna Evans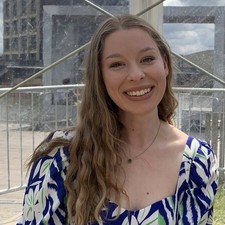 AS Atmospheric Sciences
The 2021 Virtual Outstanding Student and PhD candidate Presentation (vOSPP) Award is awarded to Rhianna Evans for the poster/PICO entitled:
Changes in surface level NO2 in the UK during the COVID-19 pandemic compared to predicted 2020 concentrations and the impact on O3 (Evans, R.; Lee, J.; Drysdale, W.)
Click here to download the poster/PICO file.
Rhianna Evans is a recent Master of Chemistry graduate from the University of York. The work presented in the awarded vPICO session at EGU 2021 was part of her master's thesis on utilising random forest modelling to investigate the impact of COVID-19 lockdowns on air quality in the UK supervised by Professor James Lee. Her presentation focused on NO2 and O3 and described that NO2 levels were affected by decreased human mobility whilst O3 levels were controlled by photochemical repartitioning and favourable meteorological conditions in the lockdown period.
In October 2021, she is starting a PhD at the Wolfson Atmospheric Chemistry Laboratories at the University of York where she will join Dr Andrew Rickard's research group. Her PhD research will focus on understanding the atmospheric chemistry of biomass burning emissions.