Manal Hamdeno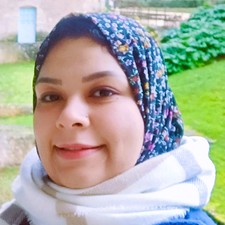 OS Ocean Sciences
The 2022 Outstanding Student and PhD candidate Presentation (OSPP) Award is awarded to Manal Hamdeno for the poster/PICO entitled:
Spatio-temporal Variability of the Marine Heatwaves in the Mediterranean Sea over 39 years, and their Possible Physical Drivers (Hamdeno, M.; Alvera Azcárate, A.)
Click here to download the poster/PICO file.
Manal Hamdeno is a PhD student in Oceanography working in Geo-Hydrodynamics and Environmental Research (GHER) at the University of Liège, Belgium, under the supervision of Dr. Aida Alvera-Azcárate. Her current research aims to understand the atmosphere-ocean interactions behind extreme heat (i.e., marine heat waves) in the ocean. In this context, her goal is to provide useful information for marine ecosystems and industries affected by MHWs.
The award-winning work presented at VOSPP 2022 examines the spatial and temporal variability of MHWs in the Mediterranean Sea over 39 years (1982 – 2020), with a focus on 2019 events. The results show that MHW events in the western (WMED) and eastern (EMED) Mediterranean Sea differ between 1982 and 2020. For the events that occurred between June and December 2019, a combination of conditions such as shallow depth of the mixing layer, high air temperature, high MSLP, and low to no wind shear were associated with MHW events in the Mediterranean Sea.
In her future work, Manal hopes to investigate the development of MHWs at the surface and subsurface of the western Mediterranean Sea (WMED) and the Red Sea (RS), as well as the physical factors that lead to the formation of MHWs in the two regions. She will also investigate the effects of MHWs on the two ecosystems, which are characterized by the presence of seagrasses in the WMED and corals in the RS.