Ramesh Glückler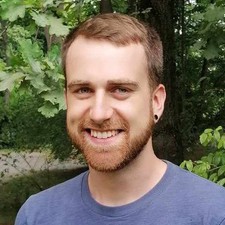 CL Climate: Past, Present & Future
The 2022 Outstanding Student and PhD candidate Presentation (OSPP) Award is awarded to Ramesh Glückler for the poster/PICO entitled:
Fires and forests: A reconstruction of Holocene fire-vegetation relationships in Central Yakutia, Siberia (Glückler, R.; Geng, R.; Grimm, L.; Baisheva, I.; Herzschuh, U.; Stoof-Leichsenring, K.; Kruse, S.; Andreev, A.; Pestryakova, L.; Dietze, E.)
Click here to download the poster/PICO file.
Ramesh Glückler is a PhD candidate at the Alfred Wegener Institute, Helmholtz Centre for Polar and Marine Research in Potsdam, Germany. His research focus lies on better understanding interactions between changing wildfire regimes, vegetation, climate, and human activity. Main research interest is the long-term reconstruction of past boreal wildfire activity using burn products buried in lake sediments, and the simulation of fire-vegetation interactions in an ecological model. His supervisors are Prof. Ulrike Herzschuh, Prof. Elisabeth Dietze, and Dr. Stefan Kruse.
At EGU 2022 Ramesh presented their new reconstruction of fire activity in the wildfire-struck region of Central Yakutia, Siberia, where comparable data is scarce. The new data, covering the last c. 10,800 years, suggests that increasing tree mortality may lead to a positive feedback on intensifying wildfires.